Introducing KorBand: Your Lifetech by NuroKor Accessory for Back and Limb Wellness
Unlock Relief, Recovery, and Performance Enhancement

KorBand, designed to complement your Lifetech by NuroKor device, revolutionises pain management and recovery for your back and limbs. With a larger gel-pad surface, it enhances pain relief, recovery, and muscle performance.

Key Features:

Multi-Device Compatibility

: Works with mibody and mitouch for various wellness needs.

Targeted Pain Relief: Alleviates discomfort in the knee, shoulder, elbow, hip, and back.
Musculoskeletal Support: Promotes functional movement and recovery.
Post-Surgery and Exercise Recovery: Aids smoother recovery after surgery, exercise, or injury.
Sports Injury Management: Reduces inflammation and arthritic pain for an active lifestyle.
Anytime, Anywhere: Versatile for home, work, sports, and travel.
Easy Application: Apply to back, hips, waist, or joints with velcro strapping. No need for conductive gels—just a few drops of water, strap, connect, and adjust intensity.
Discover More:
For detailed instructions, watch our informative video on how-to-use your KorBand accessory.
-----
KorBand was researched, designed and developed by NuroKor Bioelectronics in the United Kingdom and manufactured under licence.
Always use products as directed and read the instructions, user guides and follow treatment recommendations. If your symptoms persist see your doctor or health professional. TM and © 2018 NuroKor. All rights reserved. NuroKor and the NuroKor logo, are registered trademarks owned by NuroKor Ltd. Registered in the U.K. and other countries. KorOS is a trademark of NuroKor Ltd.. Designed by NuroKor in the United Kingdom.
Customer Reviews
Write a Review
Ask a Question
06/03/2023
Jonathan C.

United Kingdom
Super versatile back band that works wonders
A life saver for lower back strain while sitting at my desk all day.
06/03/2023
NuroKor Limited UK
Thanks for your review Jonathan! Best wishes, NuroKor Team
01/12/2021
Alison M.

United Kingdom
Great accessory
This ia such a great addition to mibody system. I use it on my knee just moistening the black pads on the back and what a relief ot provides. Delighted and highly recommend.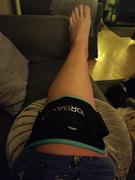 01/12/2021
NuroKor Limited UK
Thanks for reviewing the KorBand accessory Alison. It's great to hear how easy and effective to use you are finding it! Best wishes, NuroKor Team
29/07/2021
Steven M.

United Kingdom
This belt is a must for your Back
I am so excited with this, As I have had this Pain for around 30yrs and don't get me wrong have still got it, but it's getting easier to manage now. Please give your body a Treat
30/07/2021
NuroKor Limited UK
Dear Steven, Thank you for letting us know how you are getting on - we're so glad to hear the KorBand and your NuroKor device are helping you to manage your back pain. We really appreciate you taking the time to leave your review. Best wishes, NuroKor Team
14/04/2021
Kirsty C.

United Kingdom
Impressed by this company and products
Ordered the band to go with my mibody device. The mibody attaches to the band a little loose, but with some water on the band and using the velcro strap to tighten it up, it works really well. A fantastic product and exceptional customer service, as I've come to expect from this company. A very satisfied return customer!
16/04/2021
NuroKor Limited UK
Thank you for taking the time to leave us a review Kirsty. We are so glad you are loving your mibody and that you have received a great level of customer service. We very much appreciate your kind words and will continue you to support you when needed! Best wishes, NuroKor Team.
02/02/2021
Netta G.

United Kingdom
Back `Belt
It was a it fiddly to put on but didn't take long to work it out. The belt works very well and the best thing is that one doesn't need to use pads. Just a sprinkling of water on the device and you are off. I think you get an even better result with the belt
03/02/2021
NuroKor Limited UK
It is good to hear you persevered and now find the KorBand is such a great help. Thank you so much for sharing your experience Netta and best wishes, NuroKor Team