Introducing KorShoe: Elevate Foot and Leg Wellness
Enhance Pain Management and Revitalisation for Your Feet and Legs
KorShoe, compatible with Lifetech by NuroKor mitouch, redefines foot and leg wellness. Designed to address discomfort in ankles, heels, legs, and feet, it boosts circulation, stimulates muscles, and soothes tired, sore feet.
Key Features:
Post-Workout Recovery

: Speed up recovery after exercise, reducing discomfort and fatigue.

Morning Mobility Boost: Start your day right by increasing circulation and mobility.
Relax and Rejuvenate

: Enjoy a soothing foot massage after a long day on your feet.

Combat Numbness

: Alleviate numbness for a more active lifestyle.

Holistic Wellness

: Seamlessly integrate with your mitouch for comprehensive well-being.
Size: Regular, 295mm length.
Note: KorShoe is not compatible with Lifetech by NuroKor mibody.
Elevate your foot and leg wellness with KorShoe and Lifetech by NuroKor. Experience enhanced pain management, revitalisation, and support for your active lifestyle.
Discover More:
For detailed instructions, watch our informative video on how-to-use your KorShoe accessory.
-----
KorShoe was researched, designed and developed by NuroKor Bioelectronics in the United Kingdom and manufactured under licence.
Always use products as directed and read the instructions, user guides and follow treatment recommendations. If your symptoms persist see your doctor or health professional. TM and © 2018 NuroKor. All rights reserved. NuroKor and the NuroKor logo, are registered trademarks owned by NuroKor Ltd. Registered in the U.K. and other countries. KorOS is a trademark of NuroKor Ltd.. Designed by NuroKor in the United Kingdom.
Customer Reviews
Write a Review
Ask a Question
18/02/2022
Andrew S.

United Kingdom
Korshoe Nurokor
Sadly did not find this item to be any more effective than using the pads. The instructions need more clarity also
21/02/2022
NuroKor Limited UK
Dear Andrew, Thank you for your review, but we are sorry to hear you have not found the shoes helpful, we generally get great reviews about them and they can also reduce reliance on pads which need to be replaced. We will take note of your comment regarding instructions. However, please always feel free to contact us at info@nurokor.co.uk should you have any questions or need any assistance and our customer service team will be happy to help. Best wishes, NuroKor Team
10/12/2021
Christine J.

United Kingdom
Feeling returning!
My husband has been using the KorShoe to help with numbness from poor circulation and diabetes - after just three sessions with the KorShoe he has a lot more feeling in his toes!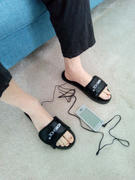 20/12/2021
NuroKor Limited UK
Dear Christine - that is great news about your husband's toes. Thank you for letting us know and reviewing the KorShoe, we're sure your review will help others in the future! Best wishes, NuroKor Team
07/10/2021
Luc N.

United Kingdom
Really helpful
These combined with the mitouch are really helpful. I use them a couple of times a week and it really helps with foot and even Achilles pain. The best part is you won't have to replace the pads.
13/10/2021
NuroKor Limited UK
Dear Luc, thank you for your further feedback of the KorShoes and how well they are working for you. We truly appreciate your review. Kind regards, NuroKor Team.
06/03/2020
Jane M.

United Kingdom
Excellent
Excellent kit and easy to use.
20/11/2020
NuroKor Limited UK
Great to hear Jane and thank you for reviewing :-)
Relieves foot and calf pain, fantastic before going to bed.
13/11/2020
NuroKor Limited UK
Glad you have found it helps you before bed - so important to get a good night's sleep and be ready for the next day! Thanks for your review Melisa, best wishes